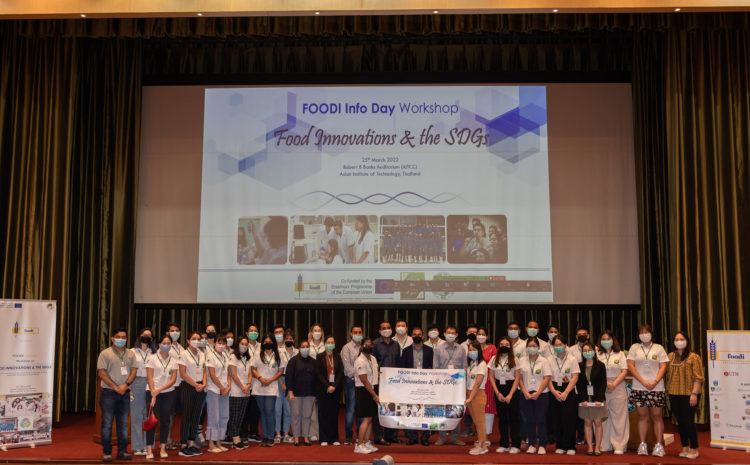 AIT FOODI Info Day on Food Innovations & the SDGs
AIT has successfully organized a one-day workshop on the theme "Food Innovations & the Sustainable Development Goals (SDGs)" via a hybrid platform on 25th March 2022 to inspire action toward Sustainable Development Goals. A total of 87 participants; 45 (in person) and 42 (online) attended the workshop. The workshop focused on emerging challenges and ideas for achieving the following SDGs:
SDG2 – Zero Hunger
SDG3 – Good Health and Well-being
SDG9 – Industry, Innovation and Infrastructure
SDG12 – Responsible Consumption and Production
SDG13 – Climate Action
SDG17 – Partnership for the Goals
The workshop was organized under the project "Food Processing Innovation (FOODI)". AIT (Asian Institute of Technology) was the first consortium partner to launch this academic program under the name of Food Innovation, Nutrition, and Health (The academic programme is created and developed within the framework of the project Erasmus+ Capacity Building-MSc Food Processing and Innovation (FOODI), reference number 598987 with a co-funding from the EU).
Speakers:
Dr. Avishek Datta, Associate Professor and Head of Department of Food, Agriculture and Bioresources (FAB), AIT, Thailand
Prof Anil Kumar Anal, Professor in Food Innovation, Nutrition and Health (FINH), AIT, Thailand
Dr. Loc Thai Nguyen, Associate Professor at Food Engineering and Bioprocess Technology (FEBT), AIT, Thailand
Dr. Muhammad Bilal Sadiq, Associate Professor at Forman Christian College, Pakistan
Dr. Tayzar Aye Cho, Research Scientist, Feed Technology Department, CP Foods PCL, Thailand
Ms Manisha Singh, Research Scholar at RMIT University, Australia
Mr Saugat Shrestha, Research Engineer, AIT Solutions, AIT, Thailand
Photos